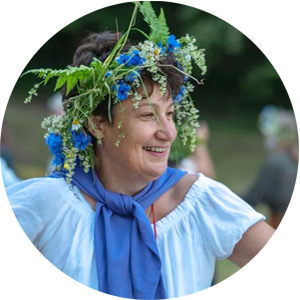 Witaj!
Dziękuję za odwiedzenie mojej strony! Mam na imię Małgorzata. Moje motto życiowe brzmi – "Rób to co kochasz, a nie przepracujesz ani jednego dnia w życiu". Ciekawi Cię co ja pokochałam? Chętnie odpowiem – ja oddałam swoje serce Biodanzie i masażowi. Biodanzą zajmuję się od 2018 roku, masażem od prawie trzydziestu lat. I te dwie miłości doprowadziły mnie do miejsca, w którym naprawdę czuję się spełniona w swoim życiu! Moje zainteresowania zarówno osobiste jak i zawodowe to szeroko rozumiana profilaktyka zdrowia. Dlatego z przyjemnością zapraszam Cię nie tylko na Biodanzę oraz do mojego gabinetu masażu, lecz także na medytacje księżycowe i w naturze, a także koncerty na misach kryształowych i gongach. 
Chcesz wiedzieć o mnie coś więcej? Poza tym, że ukończyłam wiele szkoleń z zakresu masażu oraz szkołę Biodanzy, z wykształcenia jestem naturopatą i  pedagogiem. Ponieważ moja praca jest także moją pasją, cały czas dokształcam się zdobywając nowe umiejętności. Fascynują mnie ludzie i otaczający nas świat. Na każdego człowieka patrzę z zachwytem i podchodzę do niego indywidualnie. Umiem słuchać i daję przestrzeń do tego, by emocje z jakimi przychodzą do mnie Klienci mogły zostać uzdrowione. Przez wiele lat wypracowałam własną technikę masażu, którą z powodzeniem stosuję podczas pracy w swoim gabinecie. Z dumą mogę powiedzieć, że pracując w zawodzie od prawie trzydziestu lat, nie wykonałam dwóch takich samych zabiegów! Biodanzą, nazywaną także Tańcem Życia, zajmuję się dopiero od kilku lat, lecz widzę w niej niezwykły potencjał uzdrawiający. Stwarza ona okazję do pięknych i głębokich spotkań ze sobą oraz innymi ludźmi. Naprawdę warto tego doświadczyć!
Zapraszam Cię serdecznie do gabinetu, wspólnego tańca, na spotkanie w naturze i miejscu, w którym mieszkam. Będzie mi bardzo miło Cię poznać!
Małgorzata